January 6, 2005.
Jude Law is getting married!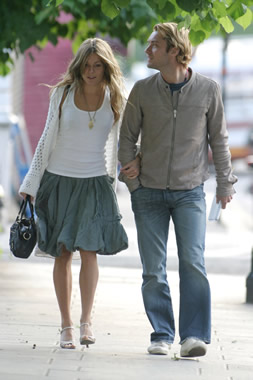 Congratulations go out to Jude Law and Sienna Miller who are getting married! Jude's L.A.-based spokesman Simon Halls confirmed that Jude proposed to his 23 year old actress girlfriend, Sienna, in London, England on Christmas Day. While Jude and Sienna were holidaying in the Seychelles they revealed their news to Jude's kids, Rafferty, Iris and Rudy who were reportedly "thrilled". Jude's spokeswoman Ciara Parkes said that Jude presented Sienna with a gold ring featuring nine diamonds set in platinum. She added, "Both their families and friends are thrilled and of course Jude's children are, too." No date has been announced yet for their wedding. In a public statement, Jude's ex-wife Sadie Frost said: "I'm delighted for Jude and Sienna and wish them all the best for the future." Congratulations Jude and Sienna!
December 30, 2004.
I hope Jude had a very happy birthday yesterday! Happy 32nd old man! Happy Birthday to Sienna too, who celebrated her birthday the day before his.
On a sadder note, one of my favourite actors, the very talented Jerry Orbach has passed away.
Jerry, who was only 69 years old, passed away on the 28th of December from prostate cancer. His passing comes as a surprise as recent reports from his rep stated that he was doing well and expected to improve. Dick Wolf, director and creator of the Law and Order series said "Jerry is one of the great actors of his generation. He has been both a colleague and a friend for almost 15 years." Jerry Orbach played Detective Lennie Briscoe in 12 seasons of Law and Order and will be seen in a spin-off of the series, "Law & Order: Trial by Jury", when it premieres in March, as he had already shot three of the first six episodes.
Leaving New York's Never Easy.
Jerome Bernard Orbach
20 October, 1935 - 28 December, 2004
He will be sadly missed.

For more on Jerry Orbach's career, please click here

December 25, 2004.

Merry Christmas everyone!

I'm sorry for the lack of updates recently, but I haven't been well. More to come in the New Year I promise! Be sure to have a look at your Christmas Rarity and have a great Christmas. Oh, and Happy Birthday Jude!
November 23, 2004.
Sorry for the delay in updating the site but there were some account problems. BUT thanks to the incredibly remarkable Clémence we now have 1 GIGABYTE of space for Flawless!!! Statues should be erected in her honour and streets named after her! Thank you so much Clém, I can't tell you how much your kindness, help and friendship is really appreciated! Now...so the rest of you can appreciate how wonderful Clémence is...I'm going to update the site! And first amongst those updates is the news that Jude has been voted the Sexiest Man Alive by People and Who magazines! As if we didn't know!
November 10, 2004.
Some brilliant news! Thanks to the extremely kind and generous Clémence we are now able to keep Flawless running! Clém has very kindly given us another 100mb account to use! This means that we now have 300mb worth of Jude space - and all due to Clémence! I might create the website, but Clém has provided all the space and we really couldn't exist without her. So THANK YOU VERY MUCH once again Clémence! I count myself very lucky to call you friend; you are the Fairest Lady indeed!
I would also like to thank those who sent me messages of support, your kind words really are appreciated, more than you know. And thank you to AllieCat for her generosity!
October 18, 2004.
Unfortunately I have just run out of webspace for this website. I am not sure yet what I will be able to do to keep this website updated. Thank you to everyone for your kind comments about this site, it really means a lot to me!
October 16, 2004.
Jude is said to be appearing on the following American tv shows this month. Please check the internet for any possible change of times or cancellations.
19 October, 2004: Late Show with David Letterman (CBS)
21 October, 2004: Late Night With Conan O'Brien (NBC)
23 October, 2004: Saturday Night Live (NBC)
Note: Jude's appearance on The View (22 October) has been cancelled and Susan Sarandon will be on instead. Thank you very much to Wen for letting us know!
October 05, 2004.
Despite rumours to the contrary, Jude Law's girlfriend Sienna Miller has publicly confirmed in an interview that she and Jude are not engaged. Sienna and Jude were interviewed on Entertainment News where Sienna laughed off the tabloid stories. Further proof, if you ever needed any, that smart people shouldn't read tabloids!
July 24, 2004.
Hello to all fellow Jude fans,
My apologies for not updating the website sooner, but unfortunately I've had some very serious problems with my computer. My hard drive crashed and it appears I have lost everything that was on it, including all my Jude rarities, information, pictures, as well as all of my own personal things. Luckily I have some older Jude files saved on a disc, but even with these I now only have about 1% of what I had previously. So please bear with me as it will take some time for me to start building my collection back up again. If anyone has any pictures or articles they would like to pass on to me to help me rebuild it would be greatly appreciated, and if the items are added to Flawless you will, naturally, be credited. Please feel free to email me if you would like to help. Thanks to all of you for your patience. And in the meantime, go and enjoy the new rarity I found!
March 31, 2004.
Legendary Actor, Humanitarian, Human Being, Sir Peter Ustinov passed away on the 29th of March. May his soul rest in peace.
"I was irrevocably betrothed to laughter, the sound of which has always seemed to me to be the most civilised music in the world."
UNICEF mourns death of Goodwill Ambassador Sir Peter Ustinov
Sir Peter Ustinov is celebrated worldwide for his accomplishments as actor and producer, novelist, playwright and raconteur. His role as a UNICEF Goodwill Ambassador has been equally distinguished.
Spreading the word
Sir Peter has been a major supporter of UNICEF for more than 30 years. Several of his missions to visit UNICEF projects, such as his 1986 visit to child health and education projects in China, have been filmed for television. A two-week filmed mission to the Russian Federation in 1993 gave him the opportunity to help build awareness of the situation facing children in that country. In schools, hospitals, shelters and care facilities in Moscow, Saint Petersburg and other cities, he met with children who had been abused, children with disabilities, children living on the streets and children whose lives had been blighted by environmental degradation.
Sir Peter has represented UNICEF in numerous international television specials over the years and his inimitable style has contributed to several award-winning radio and television commercials. Premieres of several of his films have benefited UNICEF National Committees. Throughout his long career as a Goodwill Ambassador, he has actively supported National Committees by participating in advocacy and fund-raising events and through media interviews.
Sir Peter Ustinov poses with children who have just performed a traditional folk dance at the UNICEF-assisted child protection centre in Takhman district. Cambodia, 1996.
Range of accomplishment
Sir Peter was born in London in 1921. His father was half Russian and half German and his mother was half Russian, a quarter French and a quarter Italian. "I really have automatic loyalty to something like the United Nations," he says.
It is hard to do justice to the sheer range of accomplishment in other aspects of Sir Peter's life. He has written numerous plays, books and film scripts, and he has starred in 40 films and 14 plays. He has directed eight films, eight plays and 10 operas. He has recorded eight best-selling records, starred in his own radio show and appeared in dozens of top television shows worldwide.
Sir Peter has accumulated awards and honours too numerous to list. He was knighted by Queen Elizabeth II in recognition of his artistic and humanitarian achievements in June 1990.
One of Sir Peter's major objectives is to help to build friendship and understanding between East, West, North and South – and between generations. In recent years he has spread this message through his one-man show An Evening with Peter Ustinov, which he has performed around the world and through the work of the Ustinov Foundation.
http://www.unicef.org/people/people_sir_peter_ustinov.html
One of the nicest people I wish I'd met. He will be missed.
---
January 28, 2004.
Jude has been nominated for Best Actor in a Leading Role in the upcoming 76th Annual Academy Awards, for his role as W.P. Inman in Cold Mountain.
In an official statement Jude said:
"It goes without saying that I could not have done what I did without the total support and amazing words of my director, Anthony Minghella".
Unfortunately the very Talented Mr Minghella wasn't nominated for the stunnning result of all his hard work.
Others associated with Cold Mountain were nominated, including Australian cinematographer, John Seale, who won previously for The English Patient; Film Editor Walter Murch who has been nominated 9 times and won 3 times; Gabriel Yared for Music Score, Gabriel has been nominated twice before and won once for The English Patient; T Bone Burnett and Elvis Costello for Music (song) the lyrics and music for "Scarlet Tide", their first nominations; and Sting for the lyrics and music for "You Will Be My Ain True Love", this is Sting's third nomination; and in the field of Actress in a Supporting Role - Renée Zellweger has been nominated, this is Renée's third nomination, she also recently won the Best Supporting Actress Award at the Golden Globes, congratulations!
Renée declared the announcement "very exciting news!" and added that said she "look[ed] forward to celebrating the evening with wonderful Anthony and all of my Cold Mountain friends."
Jude has been nominated for Best Supporting Actor before for his role as Dickie Greenleaf in The Talented Mr Ripley, also directed by Anthony Minghella.
The other nominees for the Best Actor Oscar are Johnny Depp in "Pirates of the Caribbean: The Curse of the Black Pearl," Ben Kingsley in "House of Sand and Fog," Bill Murray in "Lost in Translation" and Sean Penn in "Mystic River."
The "Oscars" will take place on February 29, 2004. Best of luck Jude!
January 26, 2004.
Congratulations to Jude, though he wasn't given the Best Actor award at the Golden Globes, he was nominated alongside some of the most prestigious, talented actors in the field and has done well to be counted amongst them (though we know he did deserve to win)! The award was given by Jude's Cold Mountain co star Nicole Kidman who introduced Jude as Mr Jude Law, which brought a smile to his face. Jude also told Joan Rivers, before the Golden Globes, that he is currently working on the film Closer in London and shall fly back there tomorrow and continue work the next day.
January 9, 2004.
Jude has been nominated for a Best Leading Actor award in the Golden Globes for his role as Inman in "Cold Mountain".
He has several films coming out in 2004, including - "The Aviator", in which he plays Tasmanian movie star Errol Flynn; "Sky Captain and the World of Tomorrow", in which he has the title role of the Sky Captain (Joseph Sullivan); "I Heart Huckabees", in which he plays executive Brad Stand; and the remake of the old Michael Caine film "Alfie" in which Jude has the lead role. He is also going to be playing the part of the narrator in the new film based on Lemony Snickett's popular children's book "A Series of Unfortunate Events"
Jude and his wife of six years Sadie Frost officially divorced last year. They have 3 children between them and Sadie has an older son, Finlay, from her first marriage to Gary Kemp. Both Sadie and Jude have new partners but it is the policy of this site owner not to delve too deeply into their private lives.